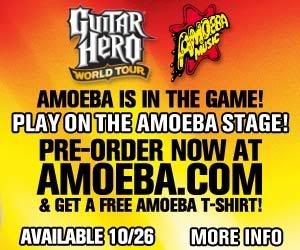 This one's for all of you outside the Poughkeepsie area... far far outside the Poughkeepsie area. One of the stages to be featured in "Guitar Hero World Tour" is Amoeba Music in California.
You can pre-order the game, which will be released on Oct. 26, through Amoeba's
We
b site
, for store pickup only, and get a free Amoeba T-shirt.
Personally, I just think the idea of buying a game at the place you are playing at in the game is pretty darned cool. Purposely wearing the free T-shirt every time you play at that stage, however, isn't cool at all. Don't be that guy.